Some time ago 3Dconnection, creators of the SpaceMouse range (or 3D mouse as many of us call it), reach out to me wondering if I was interested in testing out any of their products. I had been using their products daily in my work for many years, mainly the SpaceMouse Pro Wireless, but was curious about the SpaceMouse Enterprise and their CadMouse. So I said sure, why no! And they sent me the the Enterprise Kit 2 for me to try out. It contains the SpaceMouse Enterprise, CadMouse Pro (and a case for it), a mousepad and a USB-splitter. After that they have been part the tool box for my daily work. I have had time to test them properly, so I want to share my experience with you! My first proper review I think!
The first questions I asked myself was "Is it worth it to have the much larger, wired, Enterprise, rather than the Pro Wireless? And what could be so special about that mouse?" And I have come to a conclusion on both! The short answer is, that it depends. Boring huh? Well keep reading and you will get why.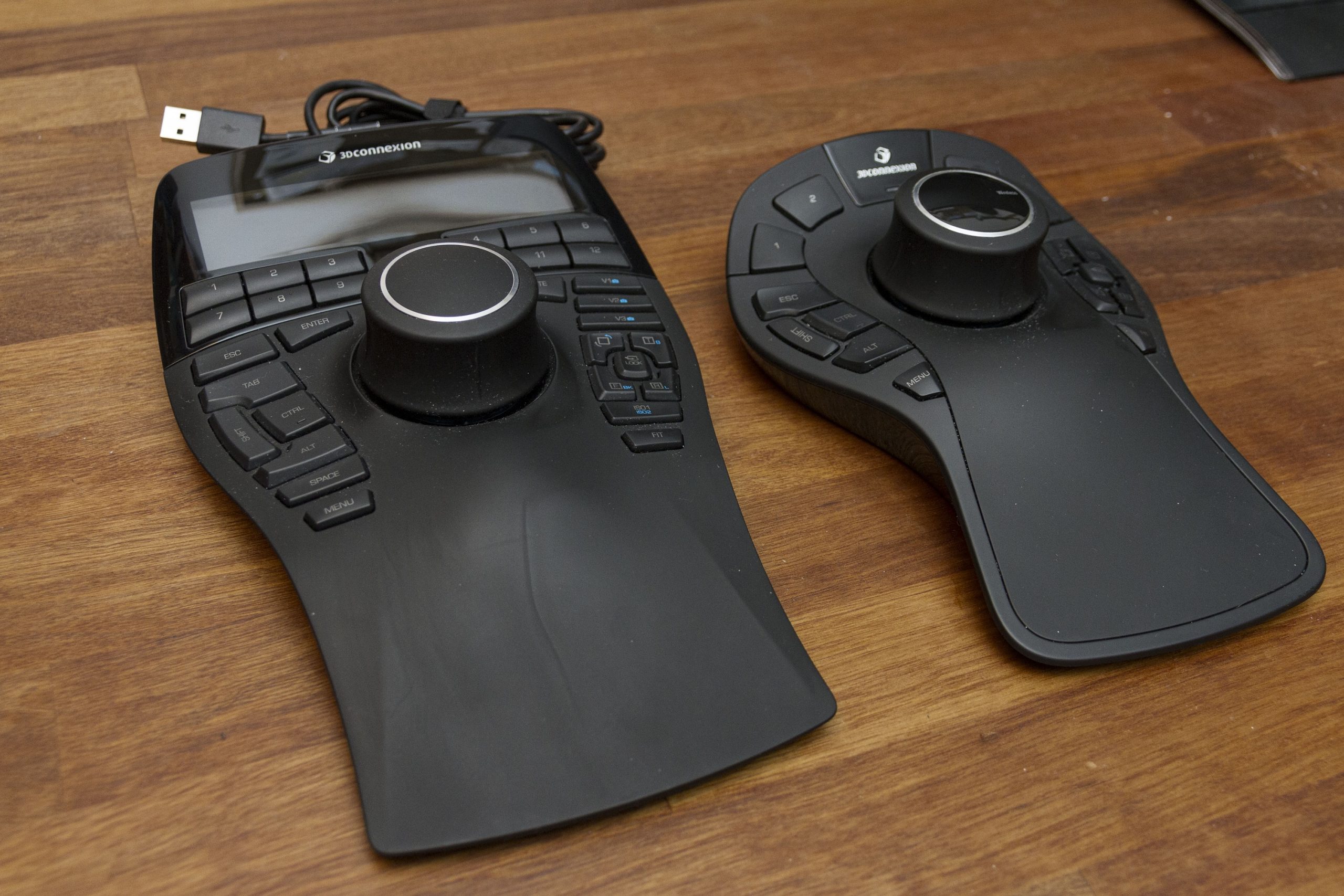 SpaceMouse vs SpaceMouse
Let's start with the SpaceMouse. First of, what ever model you use, it will make your CAD-life better. I remember the first time I used one and the utter confusion (and slight motion sickness) the first hours, before getting the feel for it. You can navigate much easier and precise, and do moves that you simply can't using keyboard and mouse. I let the battle rage between the Pro and Enterprise, swapping between them. And that's where the biggest deciding point for which one to get lays in my opinion. Do you have a fixed work place or a "mobile office", switching between working from home and from the office some times a week? Then the Enterprise might not be the best for you, it's big, have cord and no case. So it will fill up your bag and I was worried that I would break it (even though it feels like a tank with a wobbly top) when pressed in to the cramped computer bag of an engineer (If you aren't one, just know that our computers are most often huge and have absolute units of power supplies battling for space in our computer bag. Side note to the computer bag makers out there, stop adding pockets inside the bags. We don't need 20 tiny pockets all over the place! They take up valuable power supply space and we (or I at least) loose stuff in them. End of rant.). For this the Pro Wireless was much more handy and it has a case. So even though it takes up space, it's less space, and feels more secure. Also the fact that the Enterprise is wired is a small minus, but would guess that it's required for the display.
Other than the less than mobile nature of the Enterprise I really enjoy using it. I find the button placement slightly more ergonomic than on the Pro. Having the 12 shortcut buttons, combined with the display showing you what they do for each program you run, is also very nice. Because honestly, with that many shortcuts, and them changing/adapting for each program and section of said program (assembly, parts modelling, sketching, drawing etc), you need a reminder of what they do!
The Mouse of Cad
So did I find out what was so special with that mouse? Yeah. I did. But it took some time and it's maybe a niche problem. I'm a consultant, and when I received the package I was on an assignment and only using PTC Creo. During this time it was not much more than a nice, comfortable mouse with programmable buttons. I didn't have the need to change the buttons however, it worked just fine as it was. But oh how the turn tables after that assignment. Then I started doing what I call "CAD Parcour"! Jumping between Creo, SolidWorks, Inventor and Fusion360 many times a day. Here it became the equalizer. I could set it so all buttons behaved the same regardless of the CAD-software! No more would the middle button end a command in one program and not the other. Small thing but a very nice quality of life thing.
One could think crazy thoughts like "Why can't they just get along, and find a common standard for navigation in all CAD-softwares?!". But alas, that beautiful dream will probably stay a dream. I'm just happy that we have nice tools like these to bridge that gap until that day!
Other than that, the mousepad that also came along works great with the CadMouse but not at all with other mice I have tested on it. Not a biggie but just good to know. I have used the CadMouse on whatever mousepad there is or isn't at the office, and it has worked great on almost all surfaces (not suede sofa cushions though. Did not like suede sofas..). Both the CadMouse and the Pro Wireless have built in rechargeable batteries that lasts for months on a single charge despite heavy use.
The Softstuff
All settings is done in the 3DxWare software and it works fine. Can be accessed by opening it in the taskbar or just by pushing the "Menu" button on the SpaceMouse. Most commands for the CAD-softwares can be found and if not, you can add your own. Note that you can't add any icons to your own commands and you can only do button configurations for the part of the program you are currently in. Here it would be nice with more flexibility, so you can prepare buttons for other parts of programs, or change so a button always have a certain setting. I for example swap the ESC and CTRL-button when working in Creo, you use the CTRL-button very often and the ESC-button is easier to reach. Being able to do so for all of Creo in one swoop instead of one section at a time would be so much nicer. Fingers crossed for a future feature!
In conclusion
To go back to my first statement, it depends. It depends on your situation and needs. If you don't have a mobile office and don't mind the cord, then the Enterprise is a great choice. But I would go with a Pro Wireless for the mobility (you also have the SpaceMouse Wireless/Compact if you want to save even more space). The CadMouse is, as I said, a nice, comfortable mouse, and in the same price range as a mouse in the Logitech MX Performance range. They are on the same level in overall comfort and quality, and both would probably work great for you. But if you want to be able to customise your buttons, then the CadMouse is the best option in my opinion (I do miss Logitechs super scroll some times tough).
Bonus trivia
If you want to learn some nerdy history, check out LGR's video on the ancestor of the SpaceMouse: